Quarrels break out at CUHK as controversy over pro-independence posters on 'democracy wall' exposes pent-up tensions.
Local and mainland students on Thursday openly confronted each other for the first time over posters advocating independence for Hong Kong at Chinese University, exposing pent-up tensions on campus.
They faced off at the so-called "democracy wall", competing for space to put up posters and taking opposing ideological stands on freedom of speech.
A Facebook post in simplified Chinese calling on mainland students to post their views on the wall drew around 100 people – Hongkongers and mainlanders – to the scene at 6pm.
Posters declaring "CUSU is not CU" and "Sorry we refuse to be represented" were seen plastered on the wall to register unhappiness with CUSU, the students' union, which manages the wall and the square around it.
Some posters, in simplified Chinese, read "Get out of Chinese soil if supporting independence", and others asked Hongkongers to respect mainland students.
Scattered quarrels broke out when local students tried to stop several mainland students from putting up such posters on top of those advocating independence, arguing that it went against the principle of freedom of speech.
There was no physical confrontation and both groups dispersed after an hour.
"We respect opposing opinions of students and will safeguard freedom of speech," union leader Au Tsz-ho said.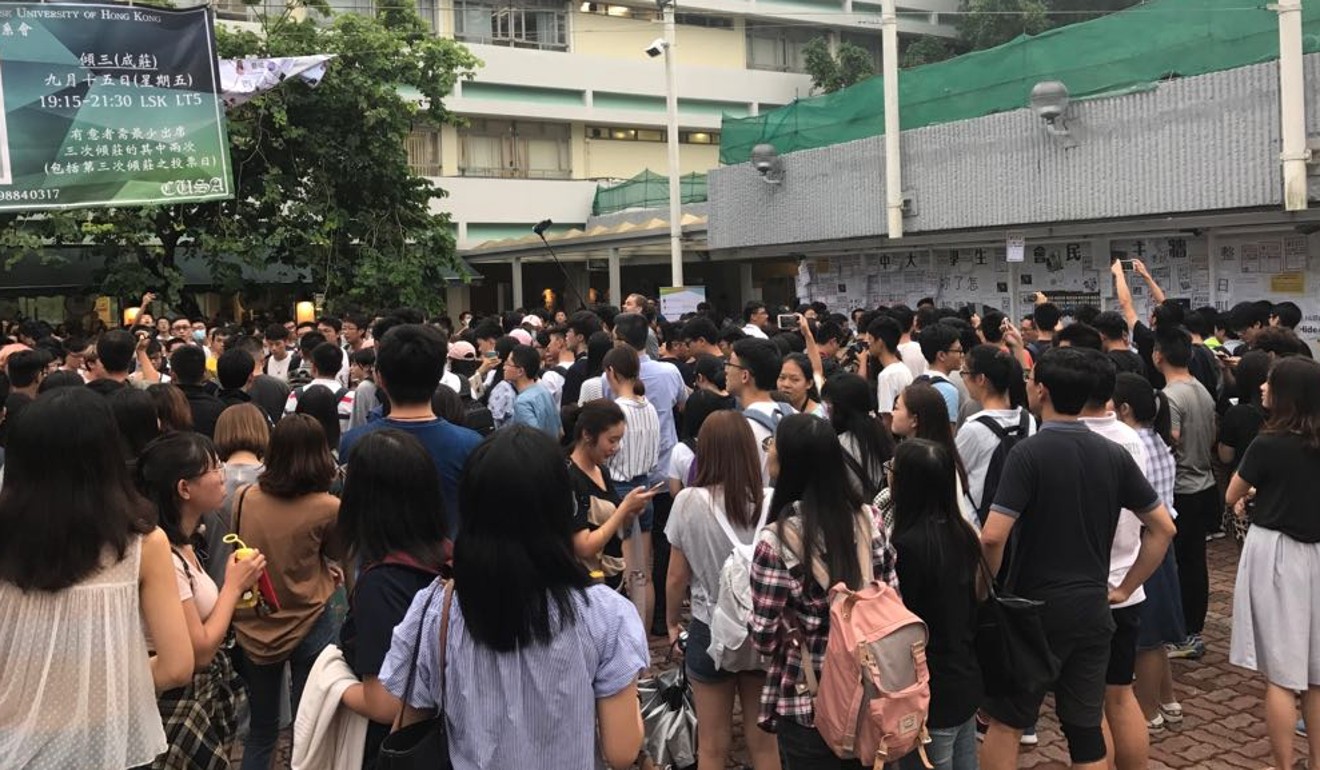 He insisted that rules had to be followed, and posters breaching them by covering existing ones should be removed.
The controversy began on Monday when three large black banners bearing the words "Hong Kong independence" in Chinese and English appeared at Chinese University at the start of the new academic year. The "democracy wall" was also covered with pro-independence posters.
While no one claimed responsibility for the displays, university staff removed the contentious materials, but they reappeared the following day, and spread to five other tertiary institutions.
On Tuesday evening, a mainland student was recorded on social media tearing down posters on the wall, declaring that if others could put them up, she was free to take them down. Her act earned her praise from the Chinese Communist Youth League, with its official WeChat account sharing the video and hailing her bravery.
With emotions running high on social media, a WeChat channel targeting mainlanders in Hong Kong launched an online poll, asking if netizens "support" or "strongly support" the student tearing down the posters. There was no other choice for the poll.
As of 10pm on Thursday, more than 5,000 had voted, with 80 per cent picking the "strongly support" option.
The students' union, which had previously refused to take down any posters on campus, changed tack on Thursday, clearing three out of four boards of pro-independence posters and saying they would remove all such material without signatures by 8 am today. Posters without signatures breached regulations, the union said.
Ahead of the students, a group of middle-aged pro-government protesters also showed up at around 5pm, condemning the union and urging the university management to remove all the related posters.
While the verbal sparring and counter-plastering of rival posters ended after about an hour, it continued on the union's Facebook page, with many criticising it for allowing the wall to be blanketed by pro-independence posters.
Chinese University has about 16,000 undergraduates, around 1,200 of whom are mainlanders.
Vice-chancellor Joseph Sung Jao-yiu wrote in his blog that he disagreed with independence advocacy and the university "should not be turned into a political arena".
Similar posters on the "democracy wall" of Education University and Shue Yan University also remained intact. The union of Shue Yan said the university office had changed tack and agreed the posters could stay up as long as space was also provided for other views.
Police commissioner Stephen Lo Wai-Chung weighed in on the debate, saying, "If advocates of independence violate the laws of Hong Kong, police will take solemn and just law enforcement action for sure."
However, views remain divided on whether current related laws on sedition, which have not been updated since the 1970s, can apply in such cases.
University of Hong Kong principal law lecturer Eric Cheung Tat-ming said those provisions were "outdated" while Executive Councillor Ronny Tong Ka-wah, a former chairman of the Bar Association, disagreed.
Meanwhile Education University and its student union condemned those responsible for putting up a poster on their "democracy wall" ridiculing Undersecretary for Education Christine Choi Yuk-lin's over the death of her eldest son, who jumped from a luxury residential building on Thursday.
A university spokesman apologised for the "shameful" behaviour, and said CCTV footage was being checked to find out who was responsible.
By Kimmy Chung and Elizabeth Cheung
SCMP